It's the most versatile kitchen tool you can give him. A wooden cutting board is great for chopping veggies or meat as well as serving platters for bread, cheese, and meats. It's both practical and aesthetically appealing to a point that it can be a beautiful centerpiece in the kitchen. However, because it's made of wood, the process for cleaning it is different than how you care for most cooking gadgets. Cleaning them thoroughly will let it live a long, beautiful life. Here are some ways to care for wooden cutting boards: 
Basic Cleaning 
The basic cleaning is not complicated. First things first, please don't make the mistake of soaking the wooden cutting board in water or put it in the dishwasher. This will cause it to split, crack or warp. Prepare the basic things you can use to clean it: vinegar, lemon, kosher salt, and baking soda (and water, of course!). Start with gently scrubbing the board with a sponge and hot, soapy water. It is recommended that you use a mild unscented dish soap. Remember to wash both sides of the board even if you chop on only one side to keep it from drying unevenly and for the board not to warp. Don't forget to rinse the board and dry it thoroughly with a clean dish towel or paper towels. Have it stand upright to prevent any residual water from pooling. Air-dry completely before you store it so that air can circulate on all sides.
If the wooden board is used to cut raw meet, then soap and hot water would be insufficient for cleaning. To sanitize your wooden board, 
use a dilute chlorine bleach solution (1 tablespoon per gallon of cool water). Be sure to rinse it well with warm water.
Basic Waxing and Oiling 
Getting your wooden cutting board oiled would depend on where it is stored, the climate and the type of wood. Use paper towels to apply food grade mineral oil or beeswax or a blend to the board. Oiling a nd waxing only takes a minute or two, once a month. This will depend on the type of wood and the climate you live in. Once you apply the oil, it will take several hours for it to absorb into the wood. However, there's no harm in oiling the board whenever it looks thirsty. It will prevent it from becoming brittle and cracking.
Proper conditioning also creates a protective barrier against moisture which helps keep the board clean and makes it less likely to warp or crack. Plus, it also helps prevent the board  from staining or absorbing strong odors. It is important that you don't forget to stand the board upright overnight in order to allow the wood to absorb the oil. Moisture can be trapped underneath so you don't want to lay the wooden cutting board down right away. 
Dealing with Stinky Board 
To deodorize a stinky wood cutting board, you would need Kosher salt and a lemon or distilled white vinegar. However, you may want to test this first by scrubbing a small area of your board, since certain types of wood or finishes may react differently to any cleaning solution. 
First, sprinkle the board with a generous amount of kosher salt. Then, squeeze lemon juice over the salt, and use the cut side of the lemon to rub the mixture over the board. You may also add a little water to the board to create a thick paste. Allow the paste to dry on the board completely, and then gently scrape it off using a bench scraper or metal spatula. Afterwards, wash and dry the board. You may also spritz the surface of the board with a solution of 25% distilled white vinegar and 75% water. Just be sure to stand the board upright after spraying to let it air-dry completely before storing it.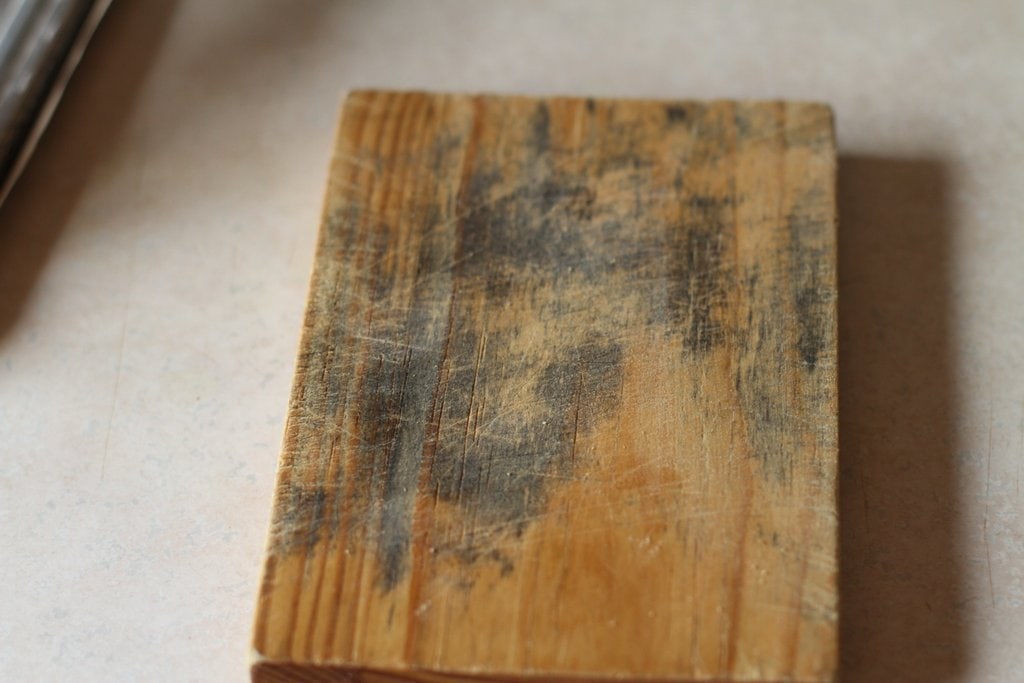 Your board can also develop clusters of small black spots or mildew. It's probably a sign to say bye-bye to it. Mildew results from inadequate drying before storing. It tends to collect on the very perimeter of the board, which is where you've been standing it up to dry. It can ruin the appearance and functionality of your board too.
To salvage your board, sanding off the mildew is the perfect solution. However, you should be able to sand down enough of the wood to remove all of the mildew, otherwise it is bound to return. Once you have cleaned the board, it's time to maintain so that mold problems doesn't return.
Dealing with Stains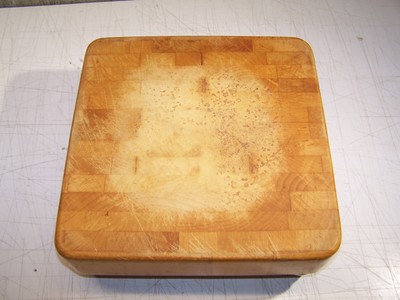 Baking soda will remove tough stains from your board. Stubborn stains can be addressed by creating a slurry of baking soda and water and gently rub the mixture onto the board using a Scotch-Brite sponge. 
Sprinkle baking soda on the surface of the cutting board, then work it into the surface stains with a lemon or a gentle sponge or wash cloth. Then you can rinse the board and dry it with a towel. Another way to remove stains is to rub kosher salt into the board with a lemon for both stains and odor.
Dealing with Warping 
It's prone to warping and so requires more care than plastic. A warped wooden board is is the last thing you want to have in your kitchen. But by properly caring for your wood cutting board, you can help avoid it. Sand the surface of your cutting board depending on how deep the gouges are, the size of your board, and how much sanding you want to do. It's a bit of a project, so allot an hour or more.
Not properly treating your cutting board can make it develop a split that can trap food particles or moisture. It will not only expand moisture continue to warp and split your cutting board, the bacteria can make you sick if it gets in your food. First, clean your board and line the crack with plastic. Then you may apply food-grade wood glue directly to fill the crack and allow to dry. Remove plastic and sand away the excess glue. Lastly, clean and treat the board with mineral oil. 
It only takes a few minutes of care to take care of your wooden cutting board. Keep it in a spotless condition and you would be able to enjoy it for years to come.